Tow Bar Tractor Attachment
Get Unstuck Without Damaging Your Tractor
This new Tow Bar attachment makes pulling easy and puts less stress on your equipment.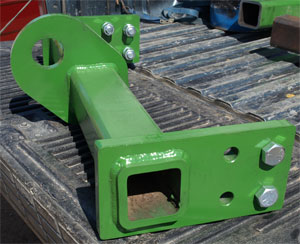 Created by a farmer for farmers! Here's the story:
For Ryan Kahovec, getting stuck in the mud while farming near Rosetown was inevitable – there wasn't much to be done to stop it. But he was convinced there was a better way for him to get unstuck, without damaging his equipment. 
"We use a grain cart with a weigh scale, so if you're stuck you can't pull it from the back or you'd wreck it," Ryan says, who farms 10,000 acres of cereals and pulse crops with his family. Unhooking the cart takes about half an hour, wasting precious time when you're harvesting.
"We needed something to hook on the front of the tractor," he says, but adds his John Deere had no place to hook a rope. "We needed something that ties the frame rail together so you can pull without bending."
How the tow bar works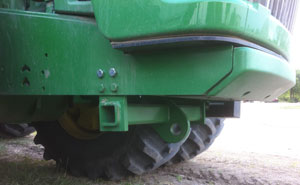 Ryan decided to solve his own problem, and created a tow bar that easily attaches to the front of the tractor with eight bolts, using existing holes. The bar is made of a drop plate and tube with a lug in the centre. "You just hook up a rope or strap to the lug and away you go," he explains.
Ryan made the first tow bar for himself, but soon his neighbours saw it and wanted one as well. He saw the Stuck in the Muck website as a great place to share his idea. Ryan himself has added some photos and he goes back to the site a couple times a week to see what's new.
"It's important to me to try to help other farmers. So many frame rails on tractors get bent from pulling," Ryan says.  "If you hook on a four-wheel drive tractor and pull at a 45 degree angle, it takes less power and you won't bend the frame. But you need that attachment to hook the rope onto. It's handy at seeding too, as you can hook on and pull with another tractor to get the unit out and going quickly."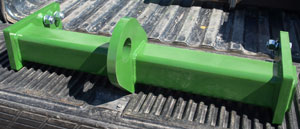 Local producer sees tow bar's benefits
Cody Grasdal, who farms just north of Biggar, uses one of the tow bars on his 9530 triple tire John Deere. With the last tractor he had, Cody bent the frame trying to pull himself out of the mud. He knew he'd get stuck and need a tow bar this year because of all the rain that's fallen.
The tow bar has worked really well, he says. It's helped pull him out a couple of times and has not bent the frame. "One time we had two tractors pulling on the 9530 to get it out and the tow bar saved the frame from being damaged," Cody says.
Ryan's advice when stuck
Currently the tow bars only work on John Deere tractors, for the 30 and 9000/20 series, but Ryan is looking at creating new ones for others manufacturers. For now, his advice to farmers who get stuck is to use heavy duty shackles and ropes, instead of chain, "and just take your time pulling."